Kitchen Faucets
Stylish and Functional for Any Kitchen
Make cooking and cleaning easier while enhancing the look of your décor with a wide range of kitchen faucets to suit your every
need. Pull-down faucets offer flexible functionality and a variety of style options from traditional to modern. Touch faucets pro-
vide easy use with just the touch of a finger. Filter faucets allow you to access great-tasting purified water right at your kitchen
sink, and are compatible with our cutting-edge 2-step filtration system that fits in your kitchen cabinet for a clean look. Beverage
faucets make a great addition to your main kitchen faucet, or as a stand-alone faucet to pair with your choice of bar sink. Com-
mercial-style faucets provide a professional look with the added functionality of a pull-down sprayhead.
Knowing your faucet hole configuration is key to choosing the right one for your kitchen. It's important that whatever you
choose aligns with the number of holes in the existing countertop or kitchen sink. Single-hole is the most common faucet
configuration, but there are other mounting options to be considered such as the 3-hole Urbix™ bridge faucet and the 4-hole
Allyn™ bridge faucet with a side-sprayer. If you already have a 3-hole faucet and want to move to a single-hole option,
a deck plate can be used to neatly cover the existing holes in your countertop.
Shop by Installation Type
Shop Our Most Popular Kitchen Faucets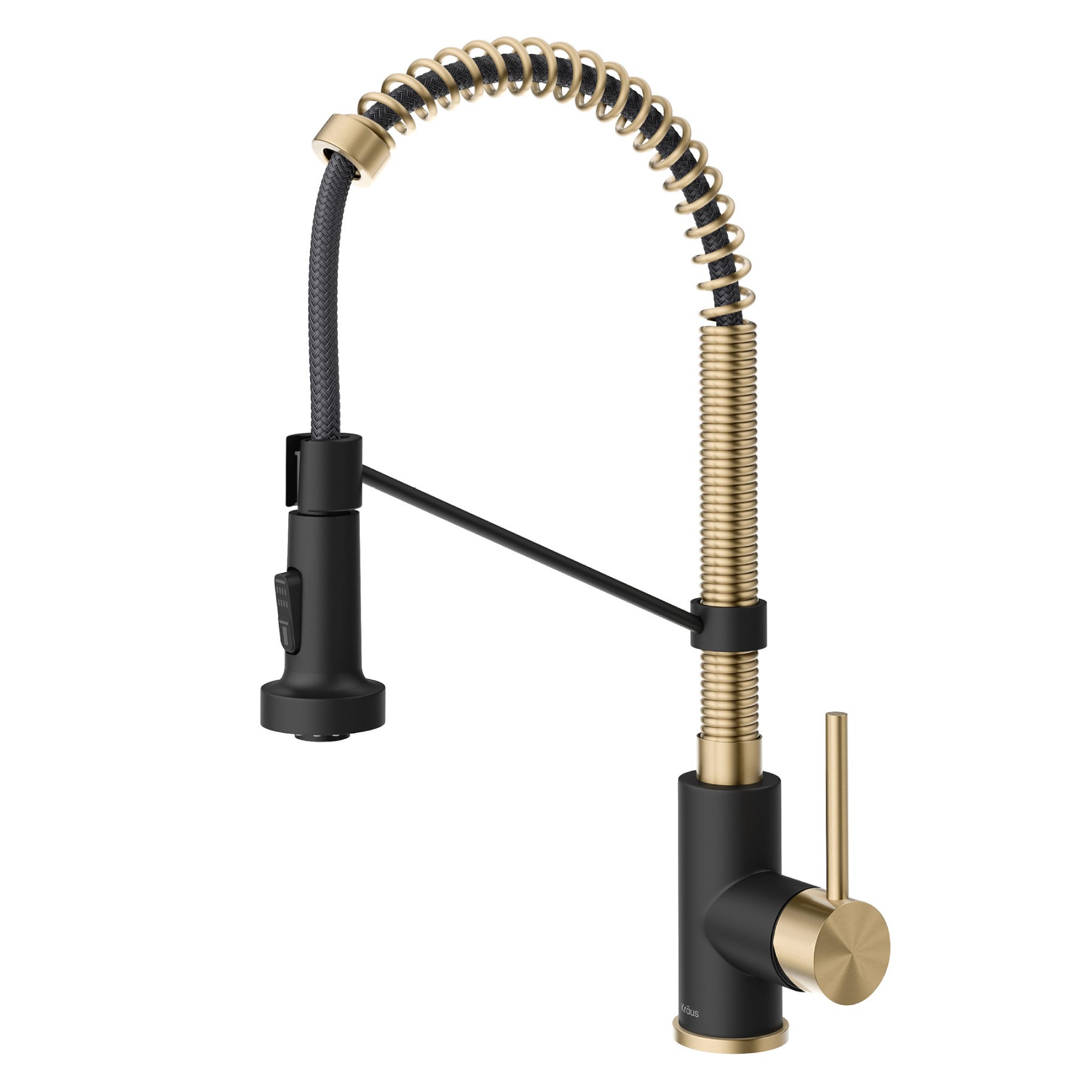 Bolden™ Pull-Down Kitchen Faucet
18 in. Commercial Style Pull-Down Kitchen Faucet in Spot Free Stainless Steel/Matte Black
#KPF-1610SFACBMB
Allyn™ Kitchen Water Filter Faucet
100% Lead-Free Kitchen Water Filter Faucet in Spot Free Stainless Steel
#FF-102SFS
KRAUS® has a range of stylish faucet collections to consider, with designs ranging from traditionally inspired to transitional
and modern. Add an industrial edge to your kitchen with the best-selling Bolden™ faucet, featuring an open coil spout with
the added flexibility of a pull-down sprayhead. Complement any kitchen style with the sleek universal designs featured in the
Oletto™ collection. Find the right look for your kitchen with options ranging from commercial-style faucets that create
a striking centerpiece, to transitional and contemporary faucets that create the perfect complement for any kitchen sink
KRAUS® offers a wide range of on-trend faucet finish options – one of the most important design considerations
for creating a cohesive look. Trends come and go, but some are timeless stand-bys. Brushed Gold or Matte Black
can bring in some modernity. Or you can go with an interesting 2-tone look like a Matte Black and Stainless Steel
mixed finish. A shiny Chrome can add a level of sophistication, while Spot-Free Stainless Steel makes cleaning
easy by resisting water spots and fingerprints. Regardless of the option you choose, KRAUS® finishes
are wear-resistant and not prone to corrosion, fading, or tarnishing over time.