Turino
Workstation 33" Farmhouse Reversible Apron Front Fireclay Single Bowl Kitchen Sink in Gloss White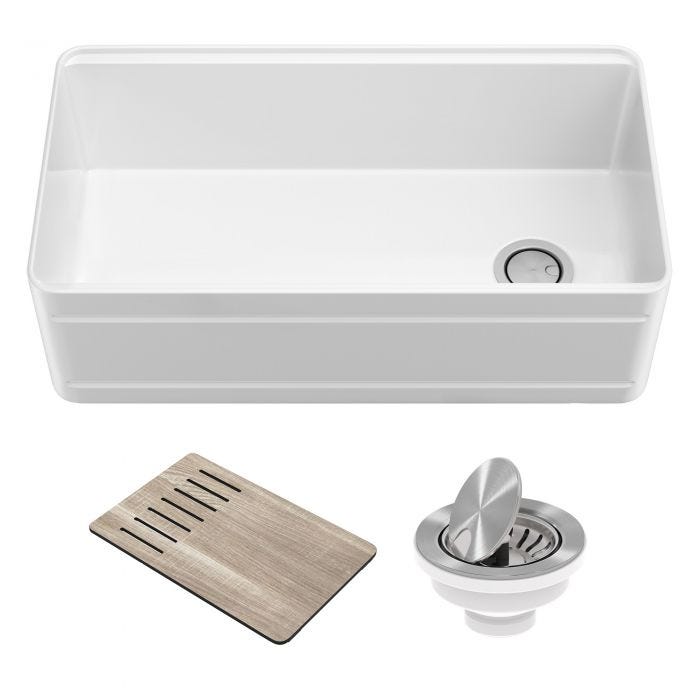 Handcrafted in Italy the source of the worlds finest fireclay the Turino Series exemplifies a stunning union of timeless design and modern functionality. This versatile farmhouse workstation sink features an integrated ledge that supports sliding accessories to streamline your workflow from meal-prep to clean-up. The sink comes with a heavy-duty cutting board so you can work right over the sink without taking up counter space. Featuring a beautifully pronounced apron front, the smart reversible design allows you to choose between a traditionally-inspired apron with decorative grooves, or a sleeker flat apron for more modern kitchens. Compression-molded from fine fireclay, Turino sinks are incredibly strong and impervious to impact and thermal shock. Kiln-fired at 2300°F, an extra-thick coating of enamel glaze creates a resilient high-gloss surface with unmatched resistance to scratches and stains. The ultra-fine material structure allows for a perfectly even application of glaze, resulting in a superior sink that is not susceptible to cracking or crazing. The glossy ultra-smooth surface resists stuck-on food and wipes clean with minimal effort. Color-stable material will not yellow or discolor over time. Designed with slim walls and tightly rounded corners, the large single bowl maximizes usable workspace in the sink to easily accommodate your biggest cookware. The gently sloped bottom is engineered to prevent water from pooling in the sink.
Benefits & Features
WORKSTATION SINK: An integrated ledge supports sliding accessories that allow you to work directly over the sink, streamlining everything from meal-prep to cleanup without sacrificing an inch of counter space
REVERSIBLE FARMHOUSE DESIGN: Featuring a beautifully pronounced apron front with distinctive shape, the smart reversible design allows you to choose between a traditionally-inspired apron front with decorative grooves, or a sleeker flat apron for more modern kitchens
OUTER SINK DIMENSIONS: 33" L x 18 1/8" W x 10" D BOWL DIMENSIONS: 32 1/4" L x 15 7/8" W x 9" D Minimum Cabinet Size: 33"
SINK KIT INCLUDES: Fine fireclay farmhouse sink, heavy-duty cutting board, premium drain assembly with strainer
100% ITALIAN CRAFTSMANSHIP: A stunning union of time-tested quality and high-end style, Turino Series sinks are handcrafted with locally quarried materials at the source of the worlds finest fireclay
FINE FIRECLAY: Proprietary fine fireclay blend boasts a dense composition that makes this sink highly resistant to impact and thermal shock Ultra-fine material allows for perfectly even glaze application, preventing cracking and crazing that can occur with sinks made from coarse grain material
DURABLE CONSTRUCTION: Compression-molded for unparalleled strength, these incredibly durable sinks easily stand up to heavy use and wont crack under impact
HIGH-GLOSS ENAMEL FINISH: Using advanced glazing technology and fired at high temperatures of 2300°F, the extra-thick finish offers unmatched durability and protection against scratches and stains, will not yellow or discolor over time
EASY TO CLEAN: Naturally hygienic ultra-smooth surface and rounded tight-radius corners easily wipe clean with soap and water, eliminating build-up over time Sink surface is highly resistant to common household chemicals
SPACIOUS SINGLE BOWL: High-capacity sink with generous workspace for large cookware and stacks of dishes
HEAVY-DUTY CUTTING BOARD made from durable composite material that will not warp or crack over time, with an easy-to-clean non-porous surface that resists odors and stains Modern design accentuates the look of the sink
PERFECT DRAINAGE: Gently sloped sink bottom prevent water from pooling in the sink Optimized slope prevents fragile glassware from tipping
HEAT RESISTANT up to 300°F: Thermal shock resistant, will not crack from hot plates and cookware
NATURALLY SOUND-DAMPENING: The superior density of fine fireclay eliminates noise and vibration when the sink is in use So quiet, no exterior soundproofing is needed
DRAIN ASSEMBLY INCLUDED: Premium stainless steel drain assembly with FlipCap creates a clean look while keeping your drainpipe free of debris Pop-up style cover allows you to fill up the sink for soaking dishes
5 YEAR LIMITED WARRANTY with top-rated customer service that puts you first
RECOMMENDED ACCESSORIES (sold separately): Rinse & dry dishes and produce over the sink with the roll-up dish drying rack (KRM-11). Protect your sink from the impact of dropped dishes, sharp utensils, and heavy cookware with a premium stainless steel bottom grid (KBG-FC3216)
INSTALLATION OPTIONS: This farmhouse sink can be installed undermounted (sink rim is mounted under the countertop), flush-mounted, or raised per your design preference
ERGONOMIC DESIGN: Apron-front design eliminates counter space between you and the sink basin, making daily kitchen tasks easier
SECURE PACKAGING protects your product from damage in transit so that it arrives in perfect condition, ensuring that your renovation project gets off to a smooth start
PLEASE NOTE: Countertop cutout template is not included. Due to the handcrafted and organic nature of the material, fireclay sinks may vary in size by up to 1/8 inch. We recommend using the actual sink to measure and trace countertop and cabinet cutouts
CERTIFICATIONS: All Kraus products are marked cUPC, for assurance that the product meets all North American standards
Sink Color Finish: White
Sink Material: Fireclay
Sink Type: Apron Front Farmhouse
Bowl Configuration: Single Bowl
Minimum Cabinet Size: 33"
Accessory Finish: Sand
Soap Dispenser Included: No
Sink Length Range: 31-35"
Bowl Depth Range: 9"-10"