Premier Kitchen
32" Undermount 18-Gauge Stainless Steel Single Bowl Kitchen Sink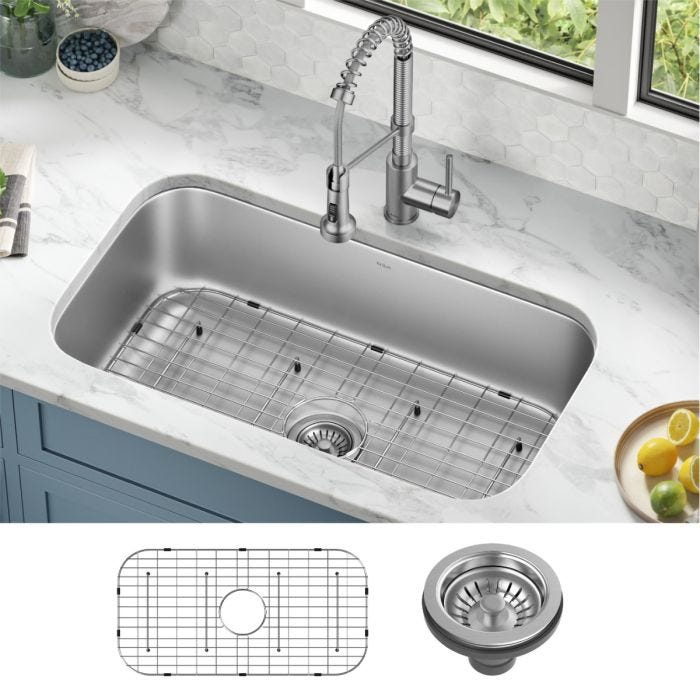 Designed for universal appeal and long-lasting durability, Kraus® Premier™ Sinks feature rounded corners and sloping sidewalls that create a soft transitional look in any kitchen. Undermount installation makes cleaning easy, with no exposed mounting deck to trap food and debris, creating a seamless transition between sink and countertop. Heavy-duty 18-gauge construction offers lasting durability, with resistance to dents and damage. The high-capacity single bowl sink creates an uninterrupted work surface with ample space for large cookware and stacks of dishes. Thick NoiseDefend™ sound dampening pads help absorb noise and vibration for an ultra-quiet experience when the sink is in use. Perfect for busy kitchens, the commercial-grade satin finish is wear-resistant and not prone to corrosion, stains, or rust. Sweeping rounded corners make this sink easy to wipe clean, and help reduce build-up over time. A sloped bottom improves drainage so that your sink remains drier after each use. The installation-ready sink kit comes with a protective stainless steel bottom grid, cut–out template, and matching drain assembly for a clean look.
Benefits & Features
STAINLESS STEEL KITCHEN SINK with rounded corners and sloping sidewalls blends classic style with modern functionality for an easy transitional look that is perfect for any kitchen
OUTER SINK DIMENSIONS: 32 3/8" L x 18 1/2" W x 9" D – BOWL DIMENSIONS: 30 3/8" L x 16 5/8" W x 8 5/8" D – MINIMUM CABINET SIZE: 36"
KIT INCLUDES: Stainless steel kitchen sink, protective stainless steel bottom grid, stainless steel drain assembly with strainer
LASTING DURABILITY: Made with heavy-duty high-performance T304 18-gauge stainless steel that stands up to everyday use and helps resist dents and damage
UNDERMOUNT INSTALLATION creates a seamless transition from sink to countertop with no exposed mounting deck to trap debris – Makes cleaning easier by allowing you to wipe water and crumbs right into the sink
WEAR-RESISTANT SATIN FINISH: Commercial grade satin finish is not prone to corrosion and rust – Smooth surface is stain-resistant and easy to clean without the use of abrasive chemicals
SPACIOUS SINGLE BOWL offers generous space for large cookware, easily fits baking sheets laid flat, stockpots, and stacks of dishes
ULTRA-QUIET SINK: NoiseDefend™ sound dampening technology with large super-silencer pads on all sides of the sink helps prevent noise and vibration from dishes and garbage disposals
FULLY INSULATED with anti-condensation undercoating to reduce the risk of moisture build-up, helping prevent damage to the base cabinet
EASY TO CLEAN SINK: Sweeping rounded corners make this sink easy to wipe clean, and help reduce build-up over time
ENGINEERED FOR EASY DRAINING: Sloped bottom helps prevent water from pooling in the sink – OPTIMIZED SLOPE helps keep your fragile stemware from tipping over
STAINLESS STEEL BOTTOM GRID with soft rubber bumpers promotes better draining and helps protect the surface of your sink from scratches and dents by keeping dishes elevated
STAINLESS STEEL DRAIN ASSEMBLY with easy-to-clean removable strainer helps keep food and debris from clogging the drainpipe
INSTALLATION-READY KIT includes all mounting hardware and cut-out template for undermount installation
UNIVERSAL DESIGN: Designed for broad appeal and long-lasting durability, these streamlined sinks are suitable for any kitchen decor - A perfect addition to any home improvement project
LIFETIME LIMITED WARRANTY and top-rated Customer Service team so you can choose KRAUS® products with confidence
RECOMMENDED ACCESSORIES (sold separately): Enhance the functionality of your sink with kitchen sink accessories like the WasteGuard Garbage Disposal (KWD100-75MBL), Roll-Up Dish Drying Rack (KRM-10BL), Expandable Kitchen Sink Caddy (KCD-1), and Silicone Drying Mat (KDM-10BL)
CERTIFICATIONS: cUPC (ASME A112.19.3/CSA B45.4)
What is the minimum required cabinet size?
36" This is to ensure there is enough space within the cabinet for the sink and the included mounting hardware.
Can I install a garbage disposal to this sink and how?
Yes, garbage disposals are 100% compatible with our sinks. Rather than install a disposal to the drain, the disposal will replace the drain as it has its own flange and mounts directly to the sink.
Does it matter on which side I install a disposal?
A garbage disposal can be installed on either side and is a matter of preference.
What is the chromium to nickel ratio?
The Chromium to Nickel ratio is 10:18
What is the steel gauge?
TRU 16 Gauge T304 Stainless Steel
How far back is the sink wall from the center of the drain?
8 3/8"
How tall is the middle divider?
5 3/8"
Can I install this sink in a laminate countertop?
Our undermount sinks are best suited for solid surfaces countertop materials like marble concrete, soapstone and granite. Not well suited for laminate or tile counters which have too many weak points along seams and grout lines to support the weight of the sink.
Does the bottom have a slope?
Yes, our sinks are engineered with 1/8" slope to easily help guide water towards the drain.
Can I purchase additional feet and bumpers for my sink grid?
Yes, you can purchase additional grid feet and bumpers by contacting us directly at 800-775-0703 or via email at customerservice@kraususa.com
Is there sound dampening material?
Yes, this sink includes NoiseDefend Soundproofing technology and offers extra thick pads covering over 80% of the sink and non-toxic undercoating for added insulation.
What should I use to clean the sink?
We recommend using mild soap and water for everyday cleaning as well as stainless steel cleaners designed for cleaning stainless steel specifically. A popular option is Barkeeper's Friend and a 3M Fine Scotch Brite Pad
Are there any products that should be avoided when cleaning my sink?
We recommend avoiding cleaners with harsh chemicals like chlorine, bleach, ammonia as these items can cause damage to the sink surface.
How can I remove scratches from my sink?
Scratches are inevitable in any sink material, including stainless steel. These are merely usage scratches over time, these scratches will become uniform with the sink's grain and blend into the overall finish of your sink with proper cleaning. Most minor scratches can be softened with a fine (white) 3M Scotch Brite pad, or 3M Scotch Brite Natural Fiber Non-Scratch Scour Pad, accompanied by a deep cleansing agent such as Bar Keepers Friend.
What does "KBU" stand for?
Kraus Basin Undermount
Can stainless steel sinks rust?
No. Typically, when red spots appear on a Stainless Steel Sink it is simply surface discoloration due to iron and mineral deposits in the water. This is usually taken care of permanently with a stainless steel polish and/or cleaner when used according to the directions of the cleaning product. Products such as Bar Keeper's friend and a fine 3M Scotch Brite pad are both great options.
Sink Color Finish: Satin
Sink Material: Stainless Steel
Sink Type: Undermount
Bowl Configuration: Single Bowl
Minimum Cabinet Size: 36"
Sink Gauge: 18
Accessory Finish: Stainless Steel
Accessory Type: Strainer
Soap Dispenser Included: No
Escutcheon Plate Included: No
Sink Length Range: 31-35"
Bottom Grid Included: Yes
Bowl Depth Range: 8"-9"