KBIS 2020 was one for the record books. Months of planning, designing, re-designing, managing logistics, training, and long nights came together to bring a vision to life. What was most incredible though, was the outpouring of support that we received and genuine recognition for our efforts.
We were visited by partners, prospects, customers, and even our competitors, all of whom congratulated us on the innovation and style that we had brought to the show. For that, we at Kraus extend a sincere "Thank You!" It is the connections that we make in this industry, the ideas and concepts that we share that make innovation possible. We are grateful for the conversations that we had with each and every person who visited us throughout the week.
Every Kraus fixture is made to reflect a bold and independent style, but they are also designed with bullet-proof construction and a battle-ready quality that empowers the people who use them. These characteristics served as the base for this year's KBIS booth design.
"Built to be Beautiful, For Life's Everyday Battles" was one of the tagline's that read below the many thirteen-foot-tall images of metallic fashion-clad models. The concept envisioned our normal everyday consumers as larger than life characters – as Kitchen Warrior's.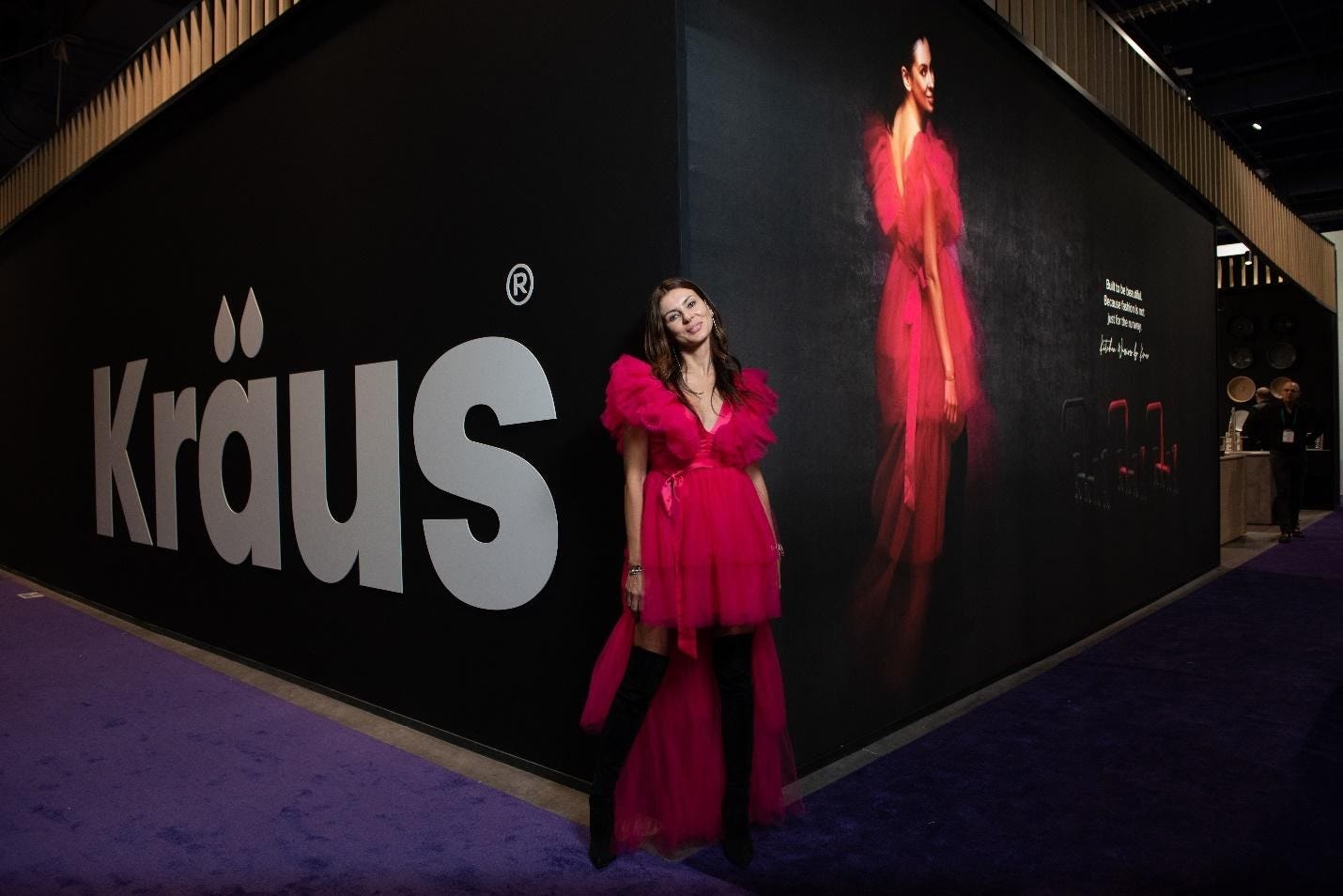 "Built to be Beautiful. Because fashion is not just for the runway."
A Look Inside: Trends
KBIS is one of the best opportunities to take stock of industry trends. Here are some of the highlights that we noticed this year. Smart technologies, filter functions, and touch or touch-less dispensing options featured prominently across brands. Materials with enhanced antibacterial or water-repellent surfaces were displayed, as well as faucet finishes with spot-free characteristics.
Sinks are being offered in greater color variety and more materials, including a rise in fireclay and granite composite. Alternative finishes for
stainless steel sinks,
such as black stainless, are also on the rise. Apron front mounting styles and workstation sink designs are trending.
Faucets were seen appearing with unprecedented finish options, with matte black and gold being extremely popular, rose-gold making a strong reappearance, and a great variety of mixed finishes.
Many of the on-trend innovations that
Kraus USA
brought to the show will be available for purchase through the first half of the year.
Product Highlight: The "Beer Faucet"
One of the biggest entertainers at the Kraus booth was the Purita™ All-in-One Filtration Faucet. This faucet features a fully integrated filter system with our proprietary DuoPure™ Technology. The two independent waterlines guarantee complete cross contamination protection and 100% purified water, while maintaining the convenience of a standard pull-down faucet.
DuoPure™ Technology allows Purita™ to double as a beer tap or cold brew coffee dispenser for both commercial and/or residential applications. At the show, you could see Purita™ in action with our team pouring beer and nitro coffee samples at the beer garden display to demonstrate the unique function.
Pictured: Purita™ Filter Faucet and KWU120-45 Kore™ Workstation
Pictured: Purita™ Filter Faucet in Matte Black and KWU120-45 Kore™ Workstation
Award Winning Product: Urbix™ Bridge Faucet with ColorSmart™ Technology
Kraus took home the
NKBA 30's Choice Award in the Creative Use of Color
category for their
Urbix™ Industrial Bridge Faucet
with ColorSmart™ Technology. The 30s choice awards are chosen by the NKBA's Thirty Under 30 panel – an elite group of designers under the age of 30, who are recognized as future trendsetters. This group's mission during KBIS is to find the newest product innovations at the show.
Utilizing a unique heat-activated color changing finish, ColorSmart™ Technology alerts users when water is too hot to touch. Appearing matte black at room temperature, the faucet changes color in reaction to rising water temperature when hot water is in use.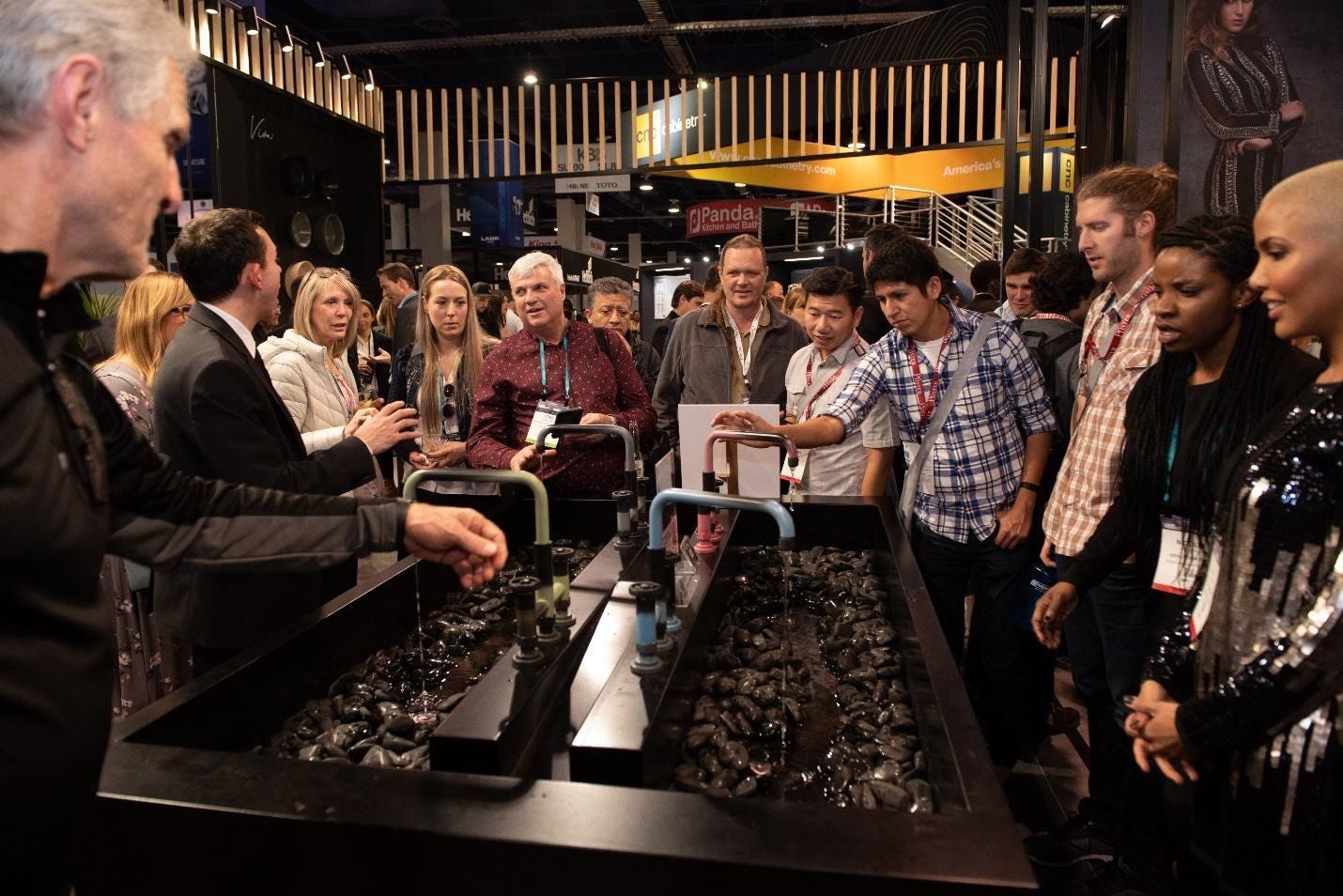 Our commitment at
Kraus USA
is to continuously create innovative and inspiring designs. We are dedicated to enhancing the future as we continue building new innovations for real life. Thank you for attending the show and sharing in the excitement of KBIS 2020. We look forward to seeing you again in February of next year at KBIS 2021 in Orlando!