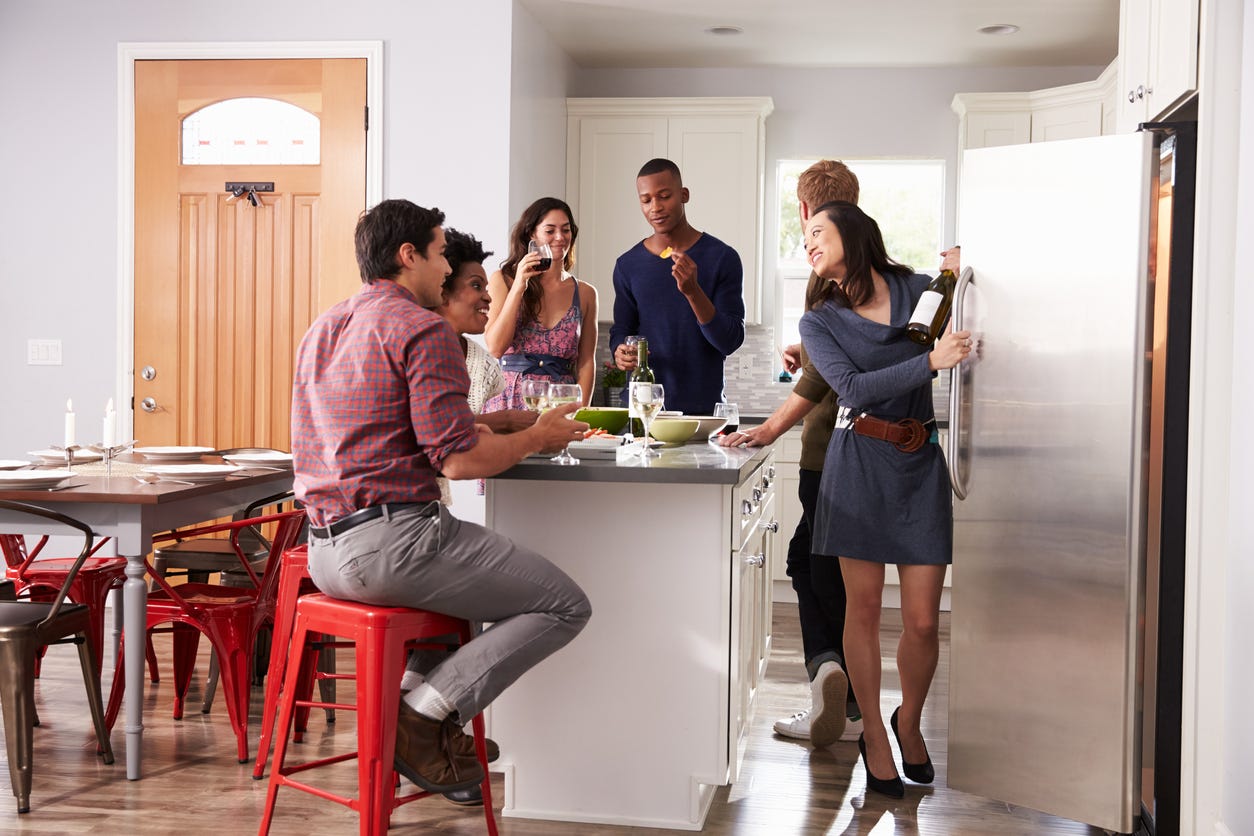 We all know that a great get-together involves much planning, but there is nothing more rewarding than hosting a gathering with those you hold dear. Sure, there is the dinner and drink menu to plan, tableware options to choose and festive décor to select, which will create your desired atmosphere. However, above all, great moments revolve around your kitchen.
I'm sure that you have heard the expression that the "Kitchen Is the Heart of The Home" and this statement couldn't be truer! There is nothing in our lives that is more important and cherished than our beloved family and friends. Hosting a party and opening your home to entertaining allows you to create memories with these special people in your life.
These needs and wants have given rise to one of the most exciting new trends in kitchens: the futuristic kitchen sink that is also a kitchen workstation.
Workstations: a New Generation of Kitchen sinks. Complete game-changer!
Let's talk about the heart of your home and how you can nurture it while maximizing functionality. One of the hottest trends that has revolutionized the kitchen industry is the Kitchen Workstation. Kitchen Workstations reach beyond the concept of a kitchen sink, as they are uniquely designed to create a functional workspace while prepping foods, cooking, entertaining and post-cleaning that encompasses your sink. Workstations come with an array of interchangeable accessories such as cutting-boards, serving boards of multiple configurations, rolling mats, colanders and bowls which can be used for prepping or serving your guests.
Unmatched Quality: Sinks designed with best-in-class materials A kitchen sink is a workhorse, and the most abused item in your kitchen. That's why at Kraus, our kitchen sinks are built with highest quality materials each and every time. We believe that kitchen sinks should be built for you to enjoy it for many years to come. And that is exactly how our products are designed; they are created with passion and with you in mind. That's right, we are just as passionate about you as we are about our products!
Ok, so we know exactly what you are thinking… "Every company says that they are passionate about their customers and products," right? Well, at Kraus, we can prove it! We wouldn't put any products in your home that we wouldn't put in our own homes. Our sinks are designed to ensure they are scratch and stain resistant. The slopes of our sinks are engineered to prevent puddling. Sleek edges, slightly rounded corners and grooves provide you with effortless ease when cleaning. We have thought of every detail imaginable.
A Beauty and a Beast: Sinks with sophisticated style and ultimate strength
Our Kore™ Workstation Sinks are designed with TRU16 gauge stainless-steel, which is the thickest stainless steel available on the market. These sinks are ultra-durable and maintain their shine to enhance the beauty of your kitchen. Oh, and we can't neglect to mention that our stainless-steel sinks are truly the most-quiet sinks on the market thanks to our NoiseDefend™. Our soundproofing covers 80% of the sink external area, providing you a premium sound-deadening experience. This is created by utilizing the highest grade of materials and encasing the sink exterior with a non-toxic protective undercoating.
First to market with granite farmhouse workstation sinks… Bellucci™ Farmhouse Workstation Sinks come in an array of different materials. Our Bellucci line is available in Ceramtek™, Metalltek™ or Quartztek™ and one is sure to meet your own personal style and needs. These statement-making farmhouse sinks with straight sidewalls and tightly rounded corners create an uninterrupted workspace which is perfect for washing even your largest stock pots and baking sheets.
Bellucci Workstation sinks made with Ceramtek™ feature an ultra-smooth hydro-repellent surface and create an incredible visual experience with vivid 100% high definition color that never fades. Enhanced with Nanotechnology these sinks offer superior durability and resistance to impact and thermal shock.
Metalltek™ provides a beautiful shimmer by combining rich colors of natural granite with metallic particles. When these worlds collide, it creates a beautiful sink with a multi-dimensional effect.
Quartztek™ offers a natural granite effect by combining multi-faceted color with the essence of natural stone.
Built-In Ledge for Accessories that Extends Your Counter Space
Our narrow ledges are super functional and provide you maximum sink surface. The ledges offer you flexibility to pair many different accessories which will drop in and slide along effortlessly. Our bottom corners are designed with an R5 radius for easy cleaning while the vertical corner R0 radius provides a sleek modern appeal.
Regardless of which model you chose, your Workstation Sink will create an upscale sophisticated elegance that will make you fall in love with your kitchen all over again.
Entertainment Central: Let your workstation do the work for you
Imagine a Kraus Workstation in your kitchen and how it can work for you. Perhaps you can see yourself preparing food for your guests prior to the party. We all know that no matter how much counter space you have that it will never be enough. Your Kraus Workstation will be an extension of your countertop and provide you with additional workspace. We even thought about the details in the accessories that coordinate with our Workstation Sinks. The KAC-1005BB includes a Serving Board that fits either and included Bowl or Colander sized to rest right on the Workstation Ledge. This Accessory set will provide you with a hands-free experience for washing your fruits and vegetables. Our Workstation Cutting Boards provide a safe, clean space for cutting those fruits and vegetables and our stainless-steel prep bowls will provide you with the space to hold your prepped items and/or scraps. So simple and no mess to clean on your counters!
Now for a quick wash of those last minutes dishes before the guests arrive – lay them out to dry on your Kraus Multi-Purpose Rolling Mat while you step away to get dressed for the party.
Once your guests have arrived, they will be gathered in the kitchen snacking and sipping drinks and during it all, the extra deep sink space will provide more than ample space to accommodate all of your guest's glasses and dishes keeping your countertop free and clear from clutter and dirty dishes.
Your Workstation is truly "The Heart" of your home and you will be the envy of your guests. Don't we all just love being the envy of our friends at times?
If you would like more information on Kraus USA Workstation Sinks, or any of our other products contact us today!