9 Common Kitchen and Bathroom Reno Mistakes According to Mike Holmes
Posted:
March 10, 2021
| Categories: Mike Holmes, Renovation Mistakes | Author:
Mike Holmes
Renovating your kitchen or bathroom is a big home improvement job. If done right, kitchen and bathroom renos will add value to your home.
I always encourage homeowners to work with their contractor or designer to understand the project's scope, where and how the budget will be spent, and get an idea of what the layout will be, along with a list of wants and needs.
Here is a list of some of the biggest mistakes I have come across during kitchen and bathroom remodeling projects; because as I say, it's important to plan right, build right, and make it right.
#1 Poor Planning And Layout
Not planning out your layout properly is one of the most common remodeling mistakes I come across.
Ensure your vanity, bath, and shower are the right scale for your bathroom and that you have sufficient room to navigate the space.
The same goes for your kitchen. How much time do you spend in the kitchen? And how much cabinet storage and counter space do you need? The more organized you are at this stage, the more successful and less stressful your renovation will be.
#2 Mismatched Fixtures
Do you want your bathroom or kitchen to look like a hardware store? My general rule for finishes is don't use more than two kinds of metal. For a cohesive look, always use the same finish for most fixtures like faucets and cabinetry hardware.
However, if you are using two kinds of metal, kitchen faucet set is an ideal place to create a focal point, especially if your sink is on the kitchen island.
I would also keep the same color and finish in a bathroom, like the Kraus Indy single-handle vessel faucet with a matching towel bar, paper holder, towel ring, and/or robe hook. Single handle faucets are very popular, easy to use and adjust the water temperature. Chrome finishes are the easiest to match up with other finishes, but one thing to watch out for is that they tend to show water and soap marks.
Kraus' Spot-Free Stainless Steel, however, is resistant to water spots and fingerprints, and brushed finishes are generally more forgiving.
#3 Not Choosing The Right Faucet For The Job
The height of the faucet should be considered when the sink is under cabinets or shelves.
When it comes to your kitchen faucet, think about features like pull down vs. conventional side-sprayer, the number of mounting holes in the sink, and single vs. multiple handles. Low-profile kitchen faucets can cause clearance issues, especially if your sink is placed below a windowsill or cabinetry, and taller fixtures are great for cleaning large pots. For extra-large sinks or double sinks, use a pull-down or conventional side-sprayer, as they are easy to direct spray and use.
In bathrooms, traditional widespread faucets with hot and cold handles that sit on either side of the spout tend to take up more room. On the other hand, center sets take up less space as the water lines and handle are integrated into the spout - this is an ideal option for bathrooms that is both convenient and practical.
#4 My Kitchen Reno Tip: Don't Forget Kitchen Sink Accessories
Kitchen sink accessories are a great idea, especially for small spaces.
Accessories include bottom sink grids, cutting boards, roll up drying racks, lotion and soap dispensers, and so much more!
Take the multi-functional roll-up drying rack that goes over your sink area. It saves on valuable counter space and is excellent for drying dishes and rinsing produce. The silicone-coated stainless steel rack can also cushion countertops from hot pots. Another great sink accessory is the kitchen filter faucet, with a dedicated filtered drinking water line that guarantees you have clean water for you and your family to consume.
#5 Insufficient Lighting
Most kitchens and bathrooms require more than one type of lighting for optimal look and function. You'll need task lighting such as a desk lamp to brighten up your work space, accent lighting to create focal points, and ambiance lighting for the overall lighting in your space.
Create focal points with an overhead chandelier or group of pendant lights. Another beneficial addition, would be adding lights with dimmers to create ambiance, or under cabinet lighting to brighten up your space.
When it comes to bathrooms, pot lights are great for inside showers, but make sure they are wet-rated, meaning they are safe to use in wet locations. A vanity bar-light and wall sconces are great for above and on either side of the bathroom vanity area as it provides sufficient even light without casting shadows.
#6 Not Planning Enough Storage
This is a common mistake. With so many homeowners going for the minimalist look, often people overlook the need for space. Shower niches are a great idea to provide an extra bit of space for your toiletries.
For your kitchen, open shelving is a good way to make extra-space for a large countertop, while nicely displaying appliances or serveware.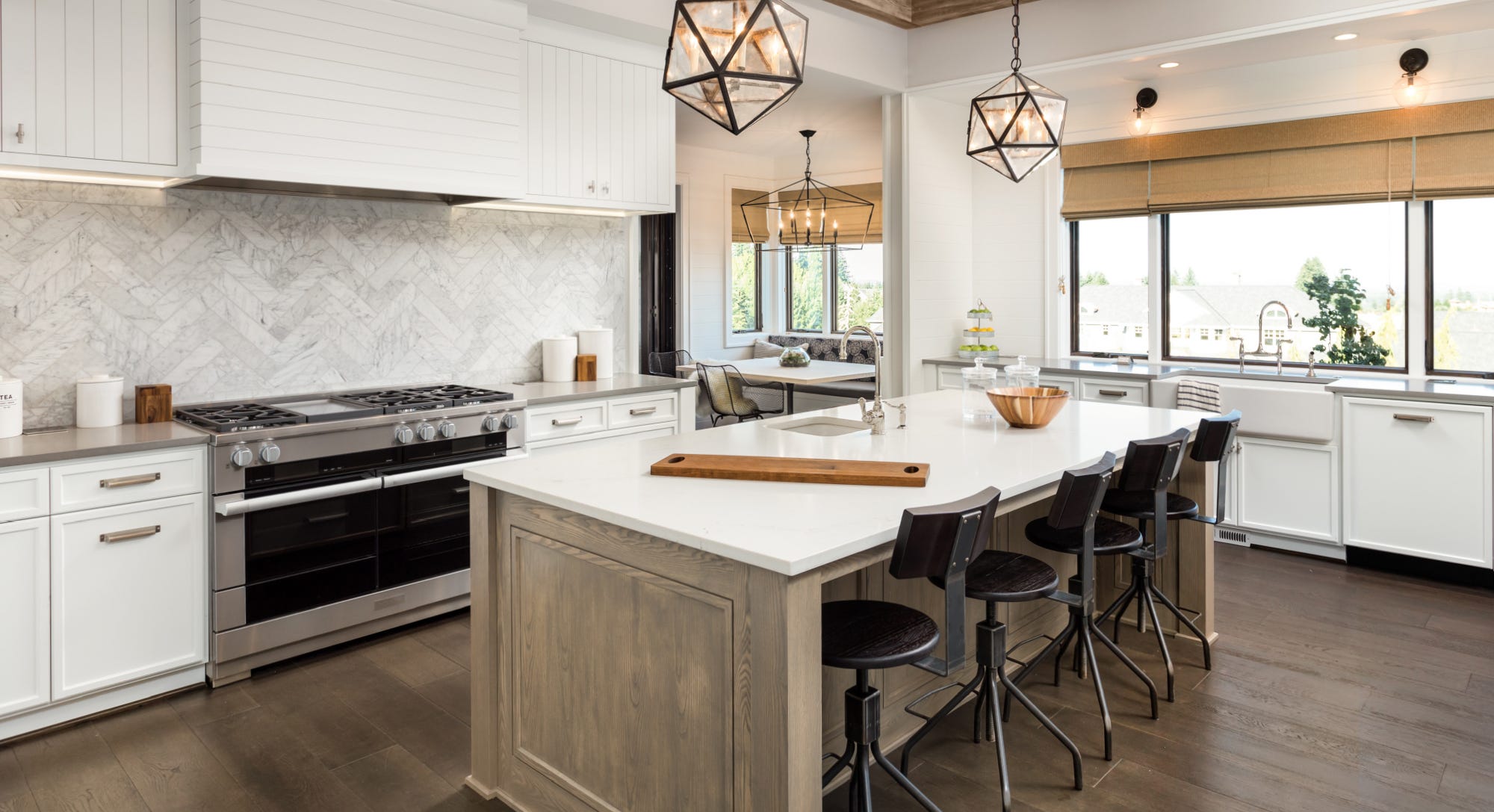 #7 Insufficient Ventilation
Exhaust fans are an essential component in any bathroom or kitchen renovation because it reduces condensation and moisture by exhausting the moist air to the outside. The average shower produces an enormous amount of water vapour and steam. If that warm, wet air isn't properly vented, it will find its way into your walls and ceilings and cause a lot of problems, such as mold and rot.
Ensure the fan is correctly vented to the outside and not into the ceiling cavity or the attic! An exhaust fan with a sensor or timer is a good choice and I always recommend installing one.
Just like in a bathroom, a high-quality exhaust fan or range hood removes the smells, steam and moisture from cooking in the kitchen. It is particularly important to install adequate ventilation on gas ranges, as the fumes created from burning natural gas contain carbon monoxide, which can be very harmful to your health if they are not properly vented. Make sure your range hood is powerful enough to support your stove or cooktop size.
Kraus Video
---
---
#8 Not Using Tile Underlayment And Waterproof Materials
I'd put extra money into waterproof and mould-resistant building products, when it comes to bathroom renos. Waterproof and mould-resistant uncoupling membranes will protect your tile floor from cracking if you have a leak or a flood in your kitchen or bathroom. The uncoupling membrane will also prevent tiles and grout from cracking.
#9 Not Getting Permits
If all you're doing is changing the cabinets, then you might not need a permit. But if you're touching the electrical, plumbing, HVAC or changing structure, you better make sure you get the proper permits. And don't listen to any contractor that tells you that you don't need them. If they do, show them the door because they clearly don't have your best interest in mind.
If you are unsure if you need a permit for the work that you are looking to complete, call your local town or city building department and they will be happy to give you the most accurate information on regulations in your area.
Hope this helped you MAKE IT RIGHT for your remodeling project!