Turino
33" Farmhouse Reversible Apron Front Fireclay Single Bowl Kitchen Sink in Matte Grey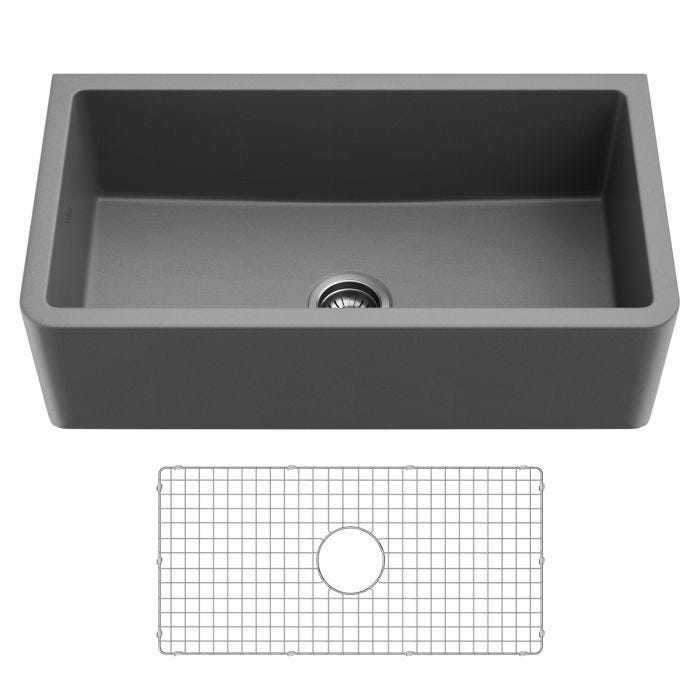 Handcrafted in Italy – the source of the world's finest fireclay – the Turino™ Series exemplifies a stunning union of timeless design and modern functionality. A smart reversible design gives you the option to install with a traditionally-inspired rounded apron front, or a square flat apron front for more modern kitchens. Compression-molded from fine fireclay, with solid core construction, Turino™ sinks are incredibly strong and impervious to impact and thermal shock. Kiln-fired at 2300°F, an extra-thick coating of enamel glaze creates a resilient surface with unparalleled resistance to scratches and stains. The ultra-fine material structure allows for a perfectly even application of glaze, resulting in a superior sink that is not susceptible to cracking or crazing. Unique matte finish creates a soft look with a beautiful modern take on traditional fireclay. The ultra-smooth surface resists stuck-on food and wipes clean with minimal effort. Color-stable material will not yellow or discolor over time. Designed with slim walls and tightly rounded corners, the large single bowl maximizes usable workspace in the sink to easily accommodate your biggest cookware. The gently sloped bottom is engineered to prevent water from pooling in the sink. Included stainless steel bottom grid protects the surface of your sink by keeping dishes and heavy cookware elevated.
Benefits & Features
REVERSIBLE FARMHOUSE DESIGN: Sink can be installed with either a traditionally-inspired rounded apron front, or a sleeker flat apron front, for design flexibility in any kitchen
OUTER SINK DIMENSIONS: 33" L x 18 1/4" W x 10" D – BOWL DIMENSIONS: 30 1/4" L x 15 1/2" W x 8 7/8" D – Minimum Cabinet Size: 33"
MATTE FINISH: Elegant velvety texture creates a luxurious modern appearance for the iconic apron front design
SINK KIT INCLUDES: Farmhouse fireclay sink, heavy-duty protective stainless steel bottom grid with soft rubber bumpers
100% ITALIAN CRAFTSMANSHIP: A stunning union of time-tested quality and high-end style, Turino™ Series sinks are handcrafted with locally quarried materials at the source of the world's finest fireclay
FINE FIRECLAY: Proprietary fine fireclay blend boasts a dense composition that makes this sink highly resistant to impact and thermal shock – Ultra-fine material allows for perfectly even glaze application, preventing cracking and crazing that can occur with sinks made from coarse grain material
SOLID CORE CONSTRUCTION: Compression-molded for unparalleled strength, these incredibly durable sinks easily stand up to heavy use, unlike hollow-core sinks that can crack under impact
PROPRIETARY GLAZE: Using advanced glazing technology and fired at high temperatures of 2300°F, the wear-resistant finish offers unmatched protection against scratches and stains – Offers the resilience and easy cleaning of traditional high-gloss enamel without the reflective shine
EASY TO CLEAN: Naturally hygienic ultra-smooth finish and rounded tight-radius corners easily wipe clean with soap and water, eliminating build-up over time – Sink surface is highly resistant to common household chemicals
SPACIOUS SINGLE BOWL: High-capacity sink with generous workspace for large cookware and stacks of dishes
INCLUDED PROTECTIVE BOTTOM GRID: Dropped dishes, sharp utensils, and heavy cookware can take a toll on any kitchen sink – KRAUS stainless steel bottom grid with soft rubber bumpers safeguards the surface of your sink by keeping dishes and heavy cookware elevated
PERFECT DRAINAGE: Gently sloped sink bottom prevent water from pooling in the sink – Optimized slope prevents fragile glassware from tipping
HEAT RESISTANT up to 300°F: Thermal shock resistant, will not crack from hot plates and cookware
NATURALLY SOUND-DAMPENING: The superior density of fine fireclay eliminates noise and vibration when the sink is in use – So quiet, no exterior soundproofing is needed
5 YEAR LIMITED WARRANTY with top-rated customer service that puts you first
RECOMMENDED ACCESSORIES (sold separately): Protect your drainpipe from debris with the ST-4 drain assembly with FlipCap or the PST-1 drain assembly for a matching look. Rinse & dry dishes and produce over the sink with the roll-up dish drying rack (KRM-10)
INSTALLATION OPTIONS: This farmhouse sink can be installed undermounted (sink rim is mounted under the countertop), flush-mounted, or raised per your design preference
ERGONOMIC DESIGN: Apron-front design eliminates counter space between you and the sink basin, making daily kitchen tasks easier
SECURE PACKAGING protects your product from damage in transit so that it arrives in perfect condition, ensuring that your renovation project gets off to a smooth start
PLEASE NOTE: Countertop cutout template is not included. Due to the handcrafted and organic nature of the material, fireclay sinks may vary in size by up to 1/8 inch. We recommend using the actual sink to measure and trace countertop and cabinet cutouts
CERTIFICATIONS: All Kraus products are marked cUPC, for assurance that the product meets all North American standards
What is the minimum required cabinet size?
33" This is to ensure there is enough space within the cabinet.
Does this sink include mounting hardware?
This sink requires a customized installation and does not include mounting hardware.
Does this sink include a template?
No. Due to the custom nature of this type of installation, no cutout template is included. Kraus recommends providing the cabinet maker with the actual sink to be installed prior to the cabinet fabrication.
What is the heat resistance?
300 degrees
Can I install a garbage disposal to this sink?
Yes, garbage disposals are 100% compatible with our sinks. Rather than install a disposal to the drain, the disposal will replace the drain as it has its own flange and mounts directly to the sink.
Is this sink reversible?
Yes, our KFR1-33 Fireclay sink offers a modern flat apron front and a traditional more rounded apron front.
What type of reveal is recommended for this sink?
Kraus recommends a 1/8" positive reveal. It is further recommended that the installer discuss this with the customer and agree that this finished appearance is the desired effect.
How far back is the sink wall from the center of the drain?
7 3/4"
Can I install this sink in a laminate countertop?
Our Farmhouse sinks are best suited for solid surfaces countertop materials like marble concrete, soapstone and granite. Not well suited for laminate or tile counters which have too many weak points along seams and grout lines to support the weight of the sink.
Does the bottom have a slope?
Yes, our Fireclay sinks are engineered with 1/2" slope to easily help guide water towards the drain.
What should I use to clean the sink?
We recommend using mild soap and water for everyday cleaning as well as stainless steel cleaners designed for cleaning stainless steel specifically. A popular option is Barkeeper's Friend and a 3M Fine Scotch Brite Pad
Are there any products that should be avoided when cleaning my sink?
We recommend avoiding cleaners with harsh chemicals like chlorine, ammonia as these items can cause damage to the sink surface.
What does "KFR" stand for?
Kraus Fireclay
What is the height of the sink apron?
10"
Is this sink self-rimming?
No. Our Farmhouse sinks are solid all around and require a Farmhouse cabinet or modification of existing cabinet for the sink apron.
Sink Color Finish: Matte Grey
Sink Material: Fireclay
Sink Type: Apron Front Farmhouse
Bowl Configuration: Single Bowl
Minimum Cabinet Size: 33"
Soap Dispenser Included: No
Sink Length Range: 31-35"
Bottom Grid Included: Yes
Bowl Depth Range: 8"-9"